Tri Modern Health - Your local Hoffman Estates and Schaumburg Chiropractor - (847) 884-8488
Chiropractic Care for the whole family
Webster Certified Chiropractor in Schaumburg
A focus on Chiropractic Care during Pregnancy
Certified in Acupuncture
A variety of Chiropractic Adjustments Near You
Chiropractic Solutions for Neck Pain, Back Pain, Headaches, and Muscle Tension
Call (847) 884-8488 today to Schedule an appointment (847) 884-8488
Please call (847) 884-8488 Welcome to Tri Modern Health and the office of Dr. Hector Martinez DC, formerly known as Altieri Chiropractic Clinic. If you are a former patient of Dr. Altieri welcome we look forward to meeting you!
Please explore our website to learn more about us. We would love to be your Chiropractic of choice in your search for "Chiropractor near me."
Meet The Chiropractor
What service are you looking for?
Services offered at Tri Modern Health include Chiropractic, Acupuncture, Prenatal and Pediatric Chiropractic, and Physical Therapy.
Click below to learn more about each service.
Tour our Website:
Who we are and what we do:
Webster Certified

Certified in Acupuncture

Trained in Mckenzie Method

Chiropractic Care for the entire family

A variety of Chiropractic Techniques and Services

Active member of the International Chiropractic Pediatric Association

Chiropractic Care for Athletes and Extremities Issues

Chiropractic care for Runners and Running Related Injuries
What Chiropractic Techniques do we offer
Activator: The Activator Method or Arthrostim techniques use a hand held instrument to deliver a gentle impulse force to the spine with the goal of restoring motion, improving joint function and reducing pain. These "instrument assisted" techniques are an alternative to the traditional hands on manual form of Chiropractic techniques.
Arthrostim - The Arthrostim is a device that allows precise corrections or adjustments in a faster time, and these adjustments will generally hold for longer durations. The Arthrostim generates a very gentle pulse/force to your body, these "Taps" 12-14 per second in every cycle
Flexion Distraction: This is a gentle Chiropractic technique that helps to "traction" the spine.
Diversified
Webster Technique - This is a Chiropractic technique that is commonly used during pregnancy
Chiropractic during pregnancy (Prenatal Chiropractic, Perinatal Chiropractic, Postpartum Chiropractic).
Extremity Adjustments
Drop Techniques
See our Reviews and Testimonials click here
Click Here or Click Below to Request an Appointment
Our office is currently open
We are Accepting New Patients
Please call the office to schedule your appointment for further details and instructions.
At this time we are not able to accept walk in appointments.
Monday: 9:00 am-12:00 pm, 3:00 pm-6:00 pm
Tuesday: 3:00 pm-5:00 pm
Wednesday: CLOSED
Thursday: 9:00 am-12:00 pm, 3:00 pm-6:00 pm
Friday: CLOSED
Saturday: 8:30 am-11:00 am
Get to know our office and Chiropractor
Our Hoffman Estates Chiropractor, Dr. Hector Martinez DC and the rest of the welcoming team at Tri Modern Health are committed to providing chiropractic solutions to address your unique needs, whether you are experiencing back pain, neck pain, headaches, or even muscular tightness and tension. You may be searching for pain relief after an accident, experiencing an injury, or if you suffer from a specific condition like chronic back pain or a spinal condition. Even if you looking to improve your overall health, our chiropractor can help you attain your everyday wellness goals!

Visit our Testimonials page to find out what our patients are saying about our Hoffman Estates chiropractor and our chiropractic care plans.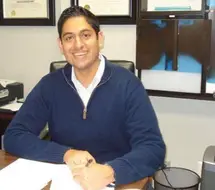 Please also visit our Services and Techniques page to find out more details about the type of services we provide which include chiropractic care, acupuncture, physical therapy, and posture correction, and chiropractic for pregnancy near Hoffman Estates.
If you would like to find out more about insurance coverage or payment options please visit our Payment Options page.
To contact us please go to the contact page form and our office will contact you within normal business hours.


What to expect on your first visit
At your first visit to Tri Modern Health, we will explain how chiropractic and acupuncture care works and give you a full evaluation to see if our chiropractic solutions are a good fit to address your needs. If there is a good fit, we can customize a plan of care for your condition and health goals. Your plan of care may consist of chiropractic care, acupuncture, exercises and stretches, and/or nutritional advice. We are experienced in dealing with patients of all ages including kids and athletes. Our office is also trained and experienced in working with pregnant patients and offer Chiropractic care for pregnancy related pain near Hoffman Estates, Palatine, Barrington, Inverness, and Hoffman Estates.
If you have not been to a chiropractor before and want to find out more, please email us or call (847) 884-8488 to receive the answers to your questions from our experienced team. We also welcome referrals, so we invite you to share our chiropractic and wellness information with your friends and loved ones.
At Tri Modern Health we pride ourselves in offering our patients the latest technologies to help you achieve your outcomes. To create your tailored exercise programs we use a brand new app called PhysiApp. PhysiApp lets you complete your prescribed exercise program by following narrated exercise videos.
PhysiApp is completely free to download from the App store and Google Play store or can be accessed via your browser. Built-in reminders help you to stay on track towards a better you!



Contact our office
We look forward to meeting you. Please call (847) 884-8488

Tri Modern Health
1000 Grand Canyon Parkway Hoffman Estates, IL 60169
(847) 884-8488

Quiropractico que habla Espanol en Hoffman Estates
For Spanish speaking patients Dr. Hector Martinez also speaks fluent Spanish please click here to learn more.

If you are looking for a Spanish speaking Chiropractor in Hoffman Estates or near Hoffman Estates, Palatine, Hoffman Estates, Rolling Meadows, Hanover Park, Elk Grove, Streamwood, Bartlett, Roselle, Elgin, and Carpentersville IL please give us a call at (847) 884-8488.
---
Dr. Richard Altieri from Altieri Chiropractic Clinic. - Recently Retired.
See Testimonials and Reviews about our Chiropractor, Dr. Hector Martinez who took over Dr. Altieri's practice in 2017.
For those of you who are former patients of Dr. Richard Altieri welcome. We still provide the great Chiropractic care that Dr. Altieri offered for so many years. In addition, we still are able to provide foot orthotics, sandals, and many of the therapy and Chiropractic services that Altieri provided. Please call our office to learn more.
Please see a letter by Dr. Altieri that was written to his former patients below.
---
Reviews and Testimonials of Dr. Hector Martinez DC, Hoffman Estates Chiropractor at Tri Modern Health
L.G.
"I went to the prior chiropractor at this location for over 20 years and was so sad when he retired and feared I wouldn't find someone not only as good as he was but as kind and attentive. I am pleasantly surprised to find Dr. Martinez fits that bill and if I wasn't 65 yrs old, I would spend the next 20 some years with his practice."

J.I.
"Dr Martinez has greatly helped me with my ongoing lower back pain and bad hip replacement pain. He has help me, through adjustment and healthy vitamin's, reduce medications I've been taking for years. He's not a dr who only does thing just one way. If he sees that one method does work he'll try other ways till you get the relief needed."

M.V.
"Dr. Martinez is friendly, knowledgeable, and uses several methods to help patients in pain."